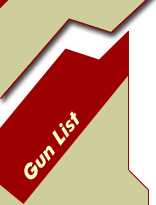 233 Stanford Parkway
Findlay, Ohio 45840
Phone (419) 422-0912
Fax (419) 422-3575
8:30a.m. - 5:30p.m.
Monday thru Saturday

Get Driving Directions
Click Here



Shipping and Transfer Fee Policy:
Jaqua's Fine Guns is not responsible for any return shipping or transfer fees. The receiving FFL holder may also charge the buyer a fee. We understand and appreciate the fact that you are purchasing a firearm unseen. We describe each item to the best of our ability. Every guns has a five day inspection period. If you feel the gun does not match the decsription given, Jaqua's will refund the full purchase price if purchsed by cash or check and the firearm in question is returned in the same condition as shipped. A 5% restocking fee will be assessed to purchases made by credit card. We will only refund the purchase price. All shipping and transfer fees are the responisbility of the customer.
EFFECTIVE IMMEDIATELY: DUE TO THE INCREASE IN FUEL CHARGES FOR UPS & FED EX
EVERY PACKAGE WILL BE PRICED AT THE TIME OF THE SALE.
ALSO, ALL FIREARMS THAT ARE VALUED UNDER 5000.00 MUST HAVE INSURANCE AT 50 CENTS PER HUNDRED DOLLARS.